Decorate your Crochet Patterns with our comprehensive collection of Free Crochet Applique Patterns. Overflowing with creativity and charm, these patterns allow you to personalize anything from garments and home decor to lovable gifts. These little applique patterns are Ideal for beginners to experts and offer unique ways to practice and master various stitches and techniques.

Crochet Applique Patterns
These smaller projects are perfect for those ready to try new stitches and techniques without devoting themselves to a larger, time-consuming effort. Crochet appliques also are ideal for using yarn leftovers, ensuring waste removal, and offering limitless creativity. Paired with the capacity to combine colors and textures, they allow you to customize anything from clothing and accessories to home decor.
Additionally, crochet applique patterns are excellent for creating unique, personalized gifts for loved ones. Crochet appliques express the fine, handmade charm that gets praise from other items. They are also great for seasonal skills, changing an everyday item into a lively piece.
Few Great Uses Of Crochet Appliques
Here are some uses of your little appliques:
Brighten your clothing items, such as shirts, dresses, and scarves.
Give your handbags, tote bags, and purses colorful crochet applique.
Add them on beanies, hats, and headbands.
Add a character to cushion covers, pillowcases, and tables for Home Decor.
Customize cozy patterns like blankets, sweaters with crochet appliques.
Children's Items: Use crochet appliques on baby's bibs, nursery curtains, or wall hangings.
Celebrate holidays by including themed crochet appliques on ornaments, wreaths, or gift tags.
The Types Of Crochet Stitches You Will Learn
As stated, the crochet appliques provide a great chance to understand new techniques in the world of crocheting. Here are some overall crochet processes you can learn if you are not familiar with and practice them more if you already know them:
Single Crochet
Double Crochet
Half-double Crochet
Slip Stich
Chain
These are the most general techniques to crochet the appliques, but some may require more advanced crochet skills. But What is The Best Stich For the Crochet Applique Of all?
The best stitch for crochet appliques varies based on the desired result, difficulty, and level of detail. One popular choice is the mentioned single crochet stitch, which creates a solid and uniform shape, ideal for both beginners and experienced crocheters. Working with stitches like double or treble crochet adds texture and complexity for more intricate appliques.
The slip stitch perfectly outlines applique edges and provides a clean finish. In contrast, loop stitches can contribute a three-dimensional effect to your applique design. Ultimately, the beauty of crochet appliques lies in the opportunity to explore and combine different stitches, creating a truly unique and expressive piece.
The Materials You Will Need:
Following are the materials that you will need:
Yarn
Crochet hook
Scissors
Other Materials like Crochet Needles, needlepoint thread, plastic embellishments, glue, etc., are all for the appliques.
Caution! The plastic or other embellishments which are optional that little ones can swallow should not be attached to the appliques for the child's room decor or toy, especially for the child under the age of 4.
The Best Yarn For the Crochet Applique
Choosing the best yarn for crochet appliques depends on the desired size and look and feel. The medium-weight yarn is suggested for beginners as it is easy to work with. You can use yarn thread or thin yarns if the applique is smaller and tiny, and if the bigger is your applique, then thick and higher-weight yarns would be a great choice.
However, acrylic yarn is often a preferred choice for durability and easy care. It's resistant to sunlight and regular washing, meaning the fiber content is decreasing, making it perfect for appliques on garments or household items. Cotton yarn, while less elastic, offers a soft and smooth texture and is excellent for more delicate works.
The More Crochet Collections:
Crochet Butterfly Applique Pattern
Today's crochet pattern is a delightful Butterfly Applique, the perfect starting point for beginners eager to explore the crochet world! From adorning hats, headbands, and blankets to adding a splash of color to bags and other accessories, these butterflies will bring a unique flair to any space. The Free Applique pattern begins with a Magic Ring (MR) and finishes by skillfully alternating between Double Crochet (DC), chains, and slip stitches.
Suggested Yarn: worsted weight
Crochet hook: 3.5mm
Tunisian Crochet Daisy Pattern
Make this Crochet Daisy Pattern a lovely decoration for your many projects. Whether you want to add floral elegance to a blanket, hat, or bag or create a standalone decoration, this Tunisian Crochet Daisy Pattern is perfect. The best thing about the versatility of our adaptable crochet pattern is designed to work seamlessly with any weight yarn and the corresponding hook size. This flexibility allows you to create an array of daisies in different sizes and textures, perfectly tailored to your preferences. Use as many color combinations as you can, and start making them today!
Crochet Heart Poppy Flower Pattern
For the coming memorial day, make this Crochet Poppy Flower Pattern! A unique and meaningful crochet pattern containing four red heart-shaped petals symbolizes our love and respect for our fallen heroes. By using different weights of yarn, you can easily achieve various sizes for your poppy, tailoring it to suit your specific needs. To create this crochet heart poppy, begin by crocheting four individual petals and the central flower piece. Once completed, carefully sew all the components to assemble your charming poppy once completed.
Crochet Bacon And Eggs Granny Square Pattern
Add a touch of breakfast-inspired fun to your crochet projects with this Bacon and Eggs Granny Square. This crochet pattern is easy to make and versatile, allowing you to combine it into various creations such as blankets and scarves or other granny squares for a truly unique piece. Crocheting these granny squares requires only basic crochet abilities and simple materials. Once you've assembled the needed supplies, you'll find that crocheting this delightful square is a quick and straightforward process.
Crochet Easy Heart Pattern
Here's a charming Crochet Heart, the perfect handmade touch for Valentine's Day gifts and decorations. Transform these adorable hearts into applique motifs to embellish items like bags or baby sweaters. String them together to create a crochet heart garland, or crochet them with cotton yarn to make Valentine's Day coasters. The advanced beginner crochet heart pattern involves increases and various stitches: single, half-double, double, treble crochet, and slip stitches. It starts with a magic ring and is worked in rounds.
Finished Size: 3.25″ wide and 3″ tall, using worsted weight yarn and size 5.0 mm hook
Crochet Possum Pattern
Just as possums are famous for keeping and Cleaning our environment, our possum crochet applique serves a playful purpose in your crochet world. Its creation is the perfect solution for utilizing leftover yarn, turning what once was scrap into a charming remembrance. Like a real possum sticking to a tree branch, these adorable crochet possum appliques will attach to your heart, infusing warmth and creativity into your space.
Crochet Rose Applique Pattern
Creating a collection of Rose Applique Patterns is a lovely way to enhance your keychain, beanie, sweater, or coat, adding a touch of elegance and charm to your attire. They're also perfect for sprucing up scarves and bags. Use any yarn from your stash for the crochet rose applique. The crochet process involves working in rows, back and forth. The first row sets the base, while the second row forms the petals. Expect a curly appearance at the end, which is intentional. Finally, sew and shape the crochet rose applique to complete the project.
Easy Crochet Flower Pattern
Add a touch of nature's beauty with the Easy Crochet Flower Applique Pattern! Like real flowers that brighten little plants, these crochet flowers will light up your dream crochet projects. Imagine a tiny, wonderful flower with yellow petals that shine like the sun and a light purple inside that looks like the first light of dawn, all created by you! It's softer than a petal because your caring hands make it. Moreover, you can stitch these sweet flowers onto your favorite bag, hat, or blanket.
Crochet Easy Triangle Pattern
There are numerous reasons to crochet a triangle, from creating stylish shawls and wraps for casual or formal occasions to making buntings and garlands for festive decorations. Triangular motifs can add flair to clothing, bags, and other accessories while providing a foundation for more complex shapes like hexagons and octagons. Creating a crochet triangle involves working with increases and decreases in a specific pattern to form a shape with three sides and three angles.
Skill Level: Easy
Crochet Pretty Poppies Pattern
This Pretty Poppies Crochet Pattern is an outstanding crochet flower applique awaiting your skillful and creative hands. Just as a poppy flower expects a passerby to admire its beauty, this applique's charming appeal is comparable to the magnetic scent of a poppy - destined to attract attention and admiration. Bleeding an absolute floral charm, it makes a perfect adornment for flower-themed parties. The Pretty Poppies Crochet Pattern does not just offer an attractive crochet experience and a unique way to express creativity and make your special occasions even more memorable.
Crochet Sunflower Applique Pattern
Crochet Sunflower Applique Patterns are perfect for welcoming the arrival of spring and adding a touch of color to your crochet projects! Embellish your crochet blankets, hats, bags, and scarves with these delightful sunflowers, or transform them into mini crochet flower keychains for a unique accessory. For this crochet pattern, feel free to use either worsted-weight yarn or any yarn from your stash, along with a 3.5mm crochet hook and a tapestry needle.
Finished Measurements:
The completed flower will measure approximately 6cm (2.5 inches).
Crochet Luna Moth Pattern
Learn how to make Crochet Luna Moth Pattern, a delightful pattern perfect for intermediate and skilled crocheters! Perfect for decorating gift packages with chocolate eggs for your kids and many other crochet projects. Made with the recommended yarn and hook size, your completed Luna Moth will measure approximately 12.5 cm (5 inches) wide and 7 cm (3 inches) long, excluding tails. If you're making this Luna Moth as a toy for a child, it's important to avoid using metallic wires in the legs for safety reasons.
Crochet Pomeranian Pattern
Famous worldwide for spreading love and affection, a crochet gift from this Pomeranian applique pattern will surely bring joy like a real Pomeranian. By crocheting together different shades of yarn, you can bring this canine's striking portrait to life. Embellish your masterpiece with some beads for the eyes, and you'll find a creation that almost seems to be watching you with a loving gaze.
Crochet Butterfly Pattern
Welcome the beauty of Spring with our delightful Crochet Butterfly Pattern, perfect for bringing joy to children and adults alike! Due to their chic design and fluffy cotton yarn, they are great for playtime for girls and make wonderful gifts and home decor accents. You may also make modifications and can convert them into bee and snail patterns. For further assistance, photo and video tutorials, visit the below link:
Suggested Yarn: Premier Yarns Cotton Batik
Hook Size: 4.0 mm hook
Crochet Mini Heart Pattern
Crochet Heart Pattern is perfect for those seeking a simple yet charming crochet project! With the easy picture tutorial, you'll quickly learn how to create these adorable hearts, ideal for gifting on Valentine's Day or any other occasion that calls for a touch of love. This crochet tutorial offers a perfect blend of simplicity and creativity, allowing you to crochet a heart in no time. The end result is a delightful heart measuring 1.5 inches by 1.5 inches, perfect for adding a touch of love to your projects.
Crochet Easter Bunny Appliqué Pattern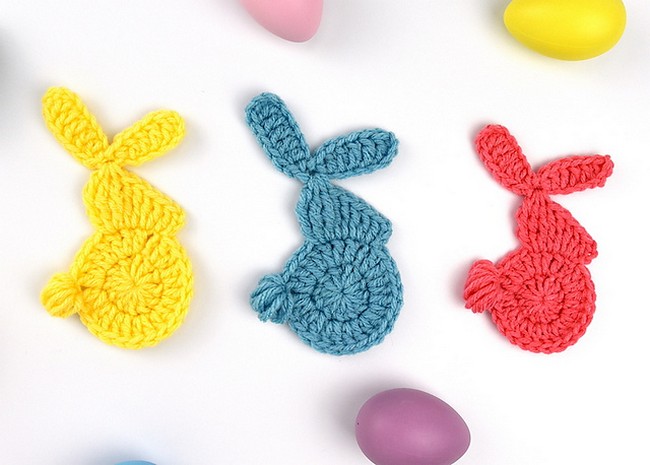 Embrace spring's vibrant colors and scents with this incredibly quick and easy Crochet Bunny Applique Pattern. These charming crochet bunnies are ideal for adorning greeting cards, gift packages filled with chocolate eggs for your little ones, or even creating a festive garland that adds a burst of seasonal color to your home. For a fun alternative, consider attaching a pom-pom to the bunny instead of creating a puff stitch for the tail. This adds a playful twist to the adorable applique.
Dimensions of the Crochet Bunny:
Upon completion, the finished bunny motif will measure approximately 5.5 inches (12.7 cm) from the base to the tip of the tallest ear.
Crochet Bucket And Spade Pattern
Crochet Sweet Hearts Pattern
Make the Crochet Sweet Hearts perfect for adding a touch of love to any setting! These charming hearts can be used to decorate a table, strung together as a beautiful garland, or scattered over a gift basket to express your affection. Made with Red Heart Super Saver yarn, these quick hearts can be made in shades of love or any colors that convey your personal message of devotion. So, Why wait? Get ready to spread love and happiness with these adorable crochet creations!
Crochet Beach Towel Pattern
Crochet Flower With Beadsl Pattern
Have a look at these adorable Flower Patterns with Beads, a charming crochet pattern that adds a touch of elegance to your handmade creations. Use this with specific letter beads and make a handmade key chain for your loved one who appreciates crocheting. These versatile crochet flowers can be easily customized using different yarn and hook sizes, allowing you to create various sizes of flowers that suit your needs. Just remember to ensure your hook fits through the bead opening!